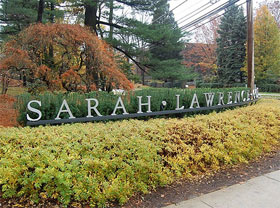 Posted by Ahmed Al-Salem
For the second year in a row, Sarah Lawrence College is the most expensive college in the nation for the 2009-2010 school year, while NYU edges out The George Washington University to take 2nd in the ranking.
Most of the colleges in the ranking of expensive colleges are private liberal arts schools located in the Northeast. Even while tuition at private colleges rose 4.3 percent for 2009-2010, the smallest increase in 37 years, many colleges have approached the $50,000 per year mark.
It is important to note that just because these schools have high tuition, doesn't mean you will actually be paying that amount. Many of these colleges provide excellent financial aid packages. A lot of these schools offer scholarships that often cover most of the financial burden of attending the college. For example, MIT is tuition-free for families earning less than $75,000 a year.
For all the complaining that Syracuse students do, SU is not on the list for highest tuition or highest total cost of attendance. Forbes generated its own list based on tuition plus fees and number on one their list is George Washington University with Sarah Lawrence College a close second.
Source 1
Source 2
Source 3